---
Select a link to view topic information:
Business Philosophy
Management Personnel
---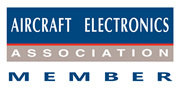 Click Here
to view our listing in the AEA membership directory.
---
---
Mission Statement:
To provide the Aviation community access to quality avionics sales, service, installation and support at the best value possible.
Business Philosophy:
Ellison Avionics Services, LLC will provide our customers with an affordable option to have their existing avionics repaired instead of the current trend of being told they will have to upgrade to a new system since "nobody fixes these old radios anymore!"
EAS will focus mainly on general aviation aircraft. Based on the 2011 FAA General Aviation (GA) Activity Survey, there are over 224,000 GA aircraft in the United States (over 155,000 of them being single or twin piston aircraft).
The focus of our business provides us with a competitive edge in the following areas:
1. Focus on General Aviation: With over 224,000 General Aviation aircraft in the United States and over 155,000 in our specific target market, focusing on General Aviation presents a large market.
2. Focus on Component Level Repairs: With most avionics facilities focusing on new system installations and fewer and fewer repair facilities possessing the technical skills needed to repair avionics units, the market is right for a facility whose main focus is avionics repair. Ellison Avionics
Services intends to help meet this need.
3. Terra/Trimble Support: Having assumed the support for the legacy Terra/Trimble product line as of July 2014, Ellison Avionics Services (EAS) will help insure that all customers who own and operate those products will have a place they can rely on to provide the support and service they need.
4. Capitalizing on Existing Experience: Troy Ellison has been performing these types of repairs since 1986, with the last 5 years specifically focused on the Terra/Trimble product line.
Products and Services:
Ellison Avionics Services (EAS) will provide the Aviation community (with a specific emphasis on General Aviation) access to quality avionics sales, service, installation and support including:
Avionics
Unit Repairs
Part Sales
Avionic Units Sales
In-Aircraft System Troubleshooting
Bi-annual Altimeter and Transponder Certifications
Aircraft
Avionics Systems Installations
EAS has assumed the factory support services for various Trimble/Terra products from FreeFlight Systems.
Management Personnel:
Cynthia Ellison - CEO/President
Cynthia Ellison is the CEO of Ellison Avionics Services, LLC. She is also the owner of Aviation & Industry Resources, a sole proprietorship
business established in February 2011 that performs wiring harness manufacturing, research support and IPC training including A-610, A-620 & J-STD-OO1
to various companies. She was employed by Strategic Aeronautics, a company that produced electronic flight bags for the Eclipse Aircraft. During
that time, she was in charge of Product Testing and Quality Control.
Education/Training
-Bachelor of Science in Elementary Education / Early Childhood from Baylor University
-Masters of Arts in Education/E-education from the University of Phoenix.
Troy Ellison - General Manager/FAA Accountable Manager
Troy Ellison is the General Manager for Ellison Avionics Services (EAS) as well at the Accountable Manager to the FAA. He has worked in the Avionics Industry since 1986 and has a wide range of experience extending from General Aviation to Defense Contractors to Higher Education. He is an Avionics Technician that possesses an extensive background in Avionics bench repair as well as installation/system integration and testing/troubleshooting.
He has been the General Manager for several avionics facilities as well as the Installation Manager for Cobham Commercial Systems (STEC Corporation). He was employed by Texas State Technical College (TSTC) for 18 years and was the Department Chair of the Avionics Technology at TSTC for 12 years. During that time, he obtained the FAA Certified Repair Station certifications for TSTC and was the Avionics Repair Station's General Manager for 15 years. He personally performed over 500 Terra/Trimble repairs as well as over 360 repairs on non-Terra/Trimble units in the last 3 years alone. He has provided training to numerous aviation companies such as L3 Communications, FreeFlight Systems, Cobham Commercial Systems (STEC Corp) as well as project support to companies such as Avidyne, Science Applications International Corporation (SAIC), DAC International, Strategic Aeronautics and Adam Aircraft.
Education/Training
-Bachelor Degree in Aviation and Space Technology Madison University
- Associate Degree in Electronics TSTC - Waco, TX
- FCC General Radio & Telephone License
- NCATT (National Center for Aircraft Technician Training) Certifications
-Aircraft Electronics Technician (AET)
-Radio Communications Systems
- Class III N.A.R.T.E. Certificate
- Airman Certificate - Radio Repairman
- Bendix/King Factory Training Certificates
-Avidyne Factory Training Certificates
- Cobham Commercial Systems (STEC Corp) Certificates
-AEA Training Certificates
- IPC-A-610 Certified Trainer
- IPC-A-620 Certified Trainer
- J-STD-001 Certified Trainer
---